AADW Company 2016
---
Guest Artists

---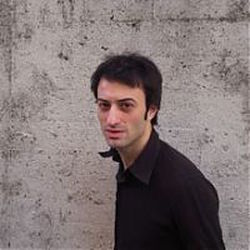 Alessio Silvestrin (Tokyo) - Choreographer
Mr. Silvestrin was in residence at the University of Michigan Department of Dance from March to April of 2016, teaching a mixture of ballet and the improvisational technologies developed by William Forsythe through the second half of the term. Silvestrin is a dance performer and choreographer, as well as a trained musician, composer, filmmaker, and sought-after teacher. He was a member of Béjart Ballet Lausanne directed by Maurice Béjart and then joined Ballet Frankfurt under the direction of William Forsythe from 1999-2002. Silvestrin has continued performing in Forsythe dances internationally, and taught Forsythe's improvisational technologies at the San Francisco Conservatory of Dance in 2008, 2011, and 2012. He has worked as a freelance artist based in Japan since 2003, and his projects have brought him to numerous locations throughout the world.

​
---
Sarah Konner & Austin Selden (NYC)
- Choreographers and Performers
Ms. Konner and Mr. Selden are both alumni of the University of Michigan Dance department. They currently live and work in New York City and have been creating dance together since 2007. Sarah has performed with ChavasseDance&Performance, Shura Baryshnikov, Megan Kendzior, Alex|Xan: The Median Movement, and Headlong Dance Theater. Sarah teaches technique and Contact Improvisation regularly in New York and has training in Yoga, Pilates, and Body-Mind Centering®. Austin has worked with Shen Wei Dance Arts since 2011, Jordan Isadore, and has a certification in Pilates. Sarah and Austin have shown their work at the Berskshire Fringe Festival, FLICfest 2013, Judson Church, Dance New Amsterdam, Triskelion Arts, AWARD Show! Philadelphia, the Kennedy Center, and through the Field Emerging Artist Residency. Sarah and Austin premiere their evening-length site-specific work created for the Detroit Institute of the Arts in Rivera Court.
---
---
Company Members
---
Missy Beck - Cheoreographer
Ms. Beck teaches Ballet, Anatomy, and Teaching Methods at the University of Michigan Department of Dance, in addition to regularly choreographing dances. She seeks to develop anatomically sound ballet techniques and to encourage dancers to move with thoughtful efficiency for maximum output with minimum effort. She has presented her research at the International Association of Dance Medicine and Science (IADMS) and National Dance Education Organization (NDEO) conferences. She has taught for the Paul Taylor Summer Intensive, Interlochen Arts Camp, Arts Unlimited at Lincoln Center, and MPulse's Summer Dance Institute and was the acting director of the program in 2008.

Beck is the 2006 recipient of the Maggie Allesee New Choreography Award. She has been commissioned to create works for the Bates Dance Festival: Youth Arts Program (1999), Bowling Green State University (2001), multiple productions for University of Michigan School of Music, Theatre & Dance, Chamber Music Ann Arbor (2003) and Ann Arbor Dance Works. Beck has choreographed for dance, opera, theatre and musical theatre productions.
​
---
Bill De Young - Choreographer
Bill De Young has danced with the companies of Al Huang, Bella Lewitzky, Rudy Perez, Elizabeth Keen and Cliff Keuter. In 1975, he formed the DeYoung Dance Theatre in New York City and took the company on two national tours. De Young has received choreography commissions from the Harvard Dance Center, the Joffrey II, the Chautauqua Festival Dance Company, NBC Television, The Yard on Martha's Vineyard, Danza Universitaria in Mexico City, Truzka of Hermosillo, Mexico, Danza Una and Danza Universitaria of Costa Rica, Ann Arbor Dance Works, the National Company of Paraguay, Eisenhower Dance Ensemble Detroit and others.

De Young is a recipient of a prestigious Kellogg National Fellowship in addition to two National Endowment of the Arts Choreography Fellowships, a Jerome Foundation Award and several grants from The Michigan Council for the Arts. He has been a cultural specialist for the United States Information Agency/Arts America and has worked as guest faculty and choreographer in Barcelona, Spain, and guest director of the National Dance Company of Costa Rica. He has been a Fulbright Senior Lecturer and Research Scholar and has taught and performed internationally. He continues to work as a freelance choreographer and teacher throughout the U.S. and abroad.
---
Michaela "Micky" Esteban - Performer
Micky Esteban grew up in Canton, Connecticut. She has trained at Valley Ballet, the Ailey School, the Hartt School, and Earl Mosely's Institue for the Arts. She is a rising sophomore in the U-M Dance Department, where she has performed works by Bosmat Nossan and William Crowley. This is her first year performing with Ann Arbor Dance Works.


---
Dee Evasic - Performer
Dee grew up in Northville, Michigan where she trained at Gayle's Dance Phase. She is a senior dance major at the University of Michigan with a minor in Movement Science. Dee is a member of the University of Michigan Dance Team, under Athletics, which also involves her with youth and in the community. This is her first year performing with Ann Arbor Dance Works.
---
Jillian Hopper - Rehearsal Director
Jillian specializes in the creative work and technique of Doris Humphrey with the aim of preserving the dance for future generations as a trustee of The Doris Humphrey Foundation, UK. In addition to teaching at the University of Michigan, Hopper has taught Humphrey technique at Middlesex University (London, UK), The Place (London, UK) and Northern School of Contemporary Dance (Leeds, UK.) Jillian received her MFA Dance from the University of Michigan. Hopper trained at Gus Giordano Jazz Dance Chicago, and Joel Hall Jazz Dance Chicago, later studying at Middlesex University, London UK where she gained a BA Hons in Dance Choreography. Her professional dance credits include Intimate Contenders and HR-Artworks London UK, in which she was a featured soloist. At the University of Michigan, Hopper performed in works by Jessica Fogel, Bill DeYoung, Amy Chavasse, and Peter Sparling, Sidra Bell and Monica Bill Barnes. ​
---
Sean Hoskins - Choreographer and Performer
​Sean Hoskins is a choreographer, teacher, performer, and screendance creator originally from Bennington, VT. He began dancing at Middlebury College and has remained active in multiple facets of the dance field ever since. He received his MFA from the University of Michigan. His choreography has been performed in New York City, Detroit, Boston, and San Francisco, as well as at the National College Dance Festival in Washington, D.C. Sean performed with Leslie Seiters' little known dance theatre, Chavasse Dance & Performance, Peck Peck Dance and in works by Paul Matteson, Peter Schmitz, Jessica Fogel, Terri Creach, Susan Sgorbati, Melissa Beck.

Sean is the Dance Technology Coordinator and Production Assistant, as well as part-time faculty at UM. He has also worked at Wayne State University and Blair Academy and has led classes and workshops at Middlebury and Bates Colleges, Oakland University, Berwick Academy, and at a number of regional American College Dance Festivals. Sean continues to choreograph and perform, as well as create dances for the camera and investigate new technologies.
---
Allison Maebius - Performer
​Allison Maebius is from Great Falls, VA and has trained at numerous studios including The Greater Washington Dance Center and The Washington School of Ballet. She is a rising sophomore pursuing a dual degree in Dance and English while also on the pre-med track. Allison recently performed in guest works by William Crowley and Bosmat Nassan. This is her first year performing in Ann Arbor Dance Works.
---
Annelise Senkowski - Performer
Annelise is originally from Savannah, Georgia. She trained at several hometown studios, but received most of her training from the University of North Carolina School of the Arts. Annelise is a rising sophomore at the University of Michigan pursuing a dual degree in Dance and Biomolecular Science. This past year, she had the opportunity to perform in guest artist Camille A. Brown's work City of Rain, presented at the Power Center. This is Annelise's first year performing with Ann Arbor Dance Works.
---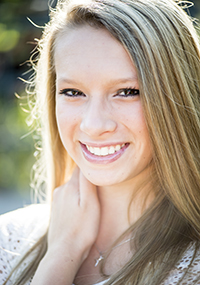 Abigail Worth - Performer
Abigail is a rising junior pursuing a dual degree in Dance and in Communication Studies (Marketing). Since attending the University of Michigan, she has performed in works by faculty members Jessica Fogel, Bill DeYoung, and Clare Croft, guest works by Robert Battle and Rosanna Tavarez and international choreographers at the Florence Summer Dance Intensive in Italy. This is Abigail's first year performing in Ann Arbor Dance Works.
---