Special International Offering
---
Chinese Dance Technique
(Dance 405/515, Section 102)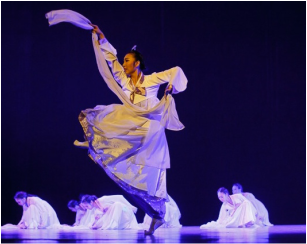 Instructor:
Jin Ni - Visiting Chinese Dance Instructor, Performer, Choreographer, Scholar

Class Times:
Tuesday, Thursday 4:00-6:00 PM
Tuesday, May 3 - Thursday, June 16, 2016

Class Location:
Studio A, Dance Building, University of Michigan Department of Dance
1310 N. University Court, Ann Arbor, 48109
---
Course description:
This course will be taught by Jin Ni, a visiting Hughes Fellow from China for the year 2016. Jin Ni is an award-winning performer and choreographer who specializes in contemporary Chinese dance. She also teaches Western modern dance technique and choreography in China.
Students will be introduced to two styles of contemporary Chinese dance: the Chaoxian (Korean) style and Shandong (Han) style. Within the Chinese dance repertoire, these forms are known for their strong basis in ritual practice, giving them distinctive technical vocabularies and rich musical sources. Students will learn to expand and train their use of breath, development of soft muscular control, and use of spiraling and curving body actions. Additionally, students will be exposed to Chinese artistic traditions and movement aesthetics.
This course will be taught in collaboration with Emily Wilcox, a UM faculty members in the Department of Asian Languages and Cultures.
Students may enroll in this course for credit or non-credit.
Other Class Details:
​
Academic credit option: this class is available for 1 credit as Dance 405/515, Section 102 (Ann Arbor Dance Works Technique, Chinese Dance).

UM students who would like to take the course for credit: please email Sean Hoskins

Not for credit option: Full series of classes is $300. Payments by check only, made out to the University of Michigan
Non-UM students: Please email Sean Hoskins AND refer to the Non-degree Applicant link for general information and directions on how to apply.
---
| | |
| --- | --- |
| | Jin Ni, an Instructor of Dance at the Jilin College of the Arts in China, will be a visiting scholar at the University of Michigan for one year beginning in January 2016. While at UM, Jin Ni will explore methodologies for choreographic innovation in Chinese folk and ethnic dance styles. From her experience, she has found a separation in Chinese dance academies between technique training, which tends to focus on Chinese dance styles, and choreographic training, which tends to focus on contemporary dance. Jin Ni wishes to develop choreography training methods for Chinese dance styles, thereby overcoming this division. One implication of this perspective is to challenge the structural association of Chinese dance styles with "tradition" and Western dance styles with "innovation" in Chinese dance schools. She has received a Hughes Fellowship from the UM Center for Chinese Studies to support her research here at UM. Jin Ni is a highly accomplished dance performer, choreographer, and teacher with many years of teaching experience at the university level. She has won numerous prestigious, national-level awards in China. Her presence in UM's Department of Dance will help to expand opportunities for international engagement for students and faculty in SMTD and the University at large. |